The Runby Page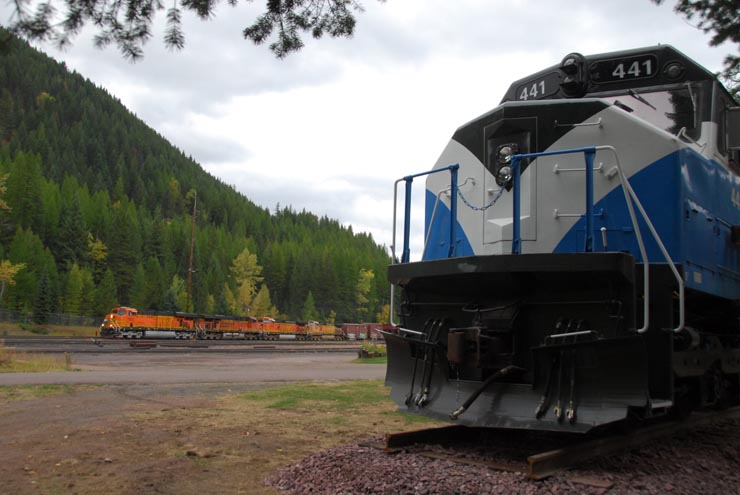 We invite you to submit your photos to The Runby Page. The rules are simple: all photos must recognizably show GN 441 and a train on the BNSF. (It doesn't have to be a BNSF train; see below.) Photos from inside GN 441 qualify as long as they clearly show you are inside GN 441. We will post the best photos on this page. Thanks, and get shooting!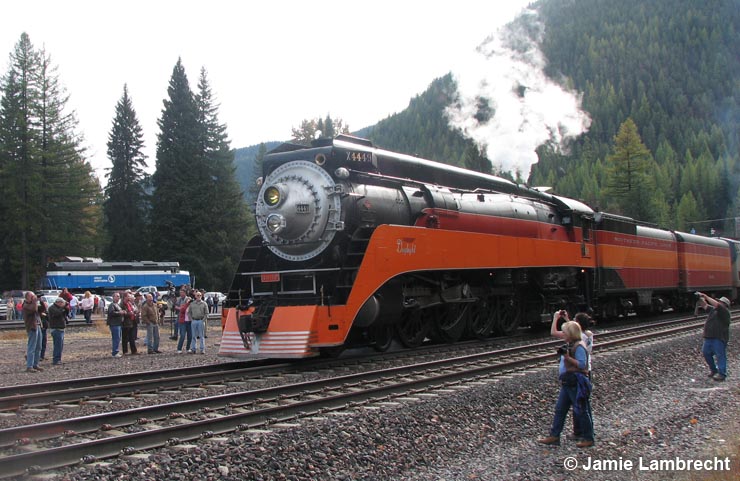 Jamie Lambrecht was working on GN 441's interior when Southern Pacific 4449 paused at Essex on October 17, 2009. The big GS-4 class 4-8-4 was returning to its home in Portland, Oregon, after attending the steam festival in Owosso, Michigan, and pulling fantrips in the Midwest.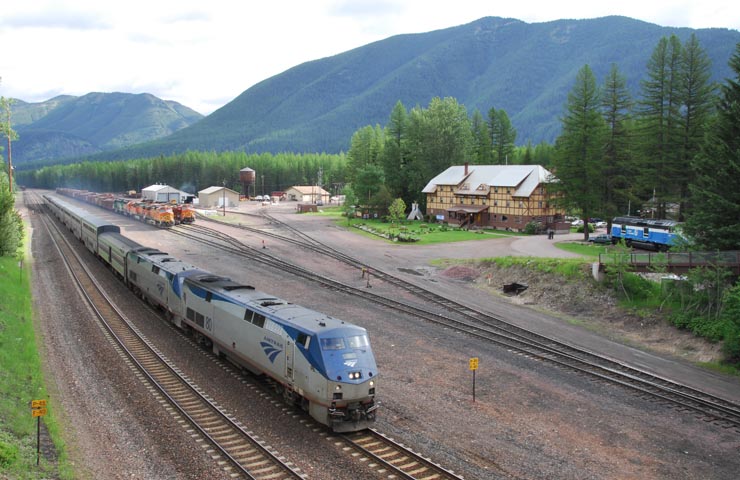 The Izaak Walton Inn is served by one of Amtrak's finest trains, the Empire Builder. The Amtrak platform is within walking distance, but the Inn will send their van for you if they know you're coming. On July 3, 2010, the eastbound Empire Builder passes the Izaak Walton Inn and GN 441 as it slows for the Essex station stop. Once No. 8 departs, the BNSF work trains in the background will head out on the mainline to work on the track.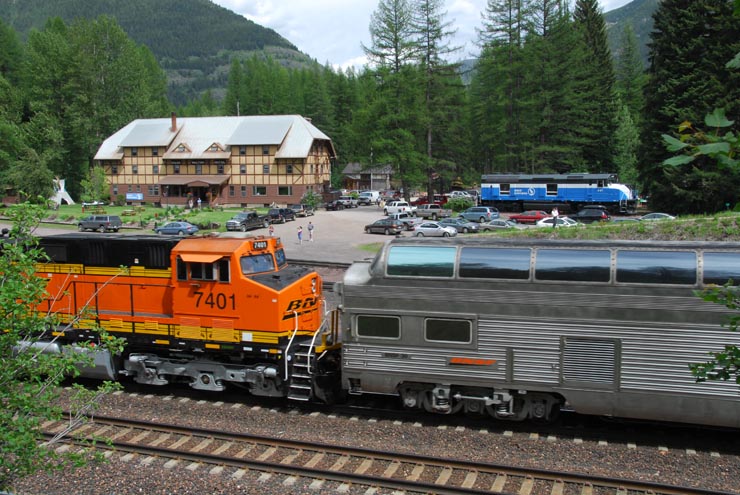 On June 26, 2010, BNSF Railway ran its executive train from Whitefish, Montana, to East Glacier and return to benefit the Glacier National Park Fund. All proceeds from the $100 tickets will support projects devoted to wildlife, natural resource conservation, park preservation, and education and visitor experience. Coupled behind locomotive 7401 is the Glacier View, one of six Great Domes built in 1955 for the Empire Builder; it later wore Great Northern's "Big Sky Blue" colors. Why all the automobiles? A wedding is being celebrated in the Frank Krshka Outdoor Pavilion behind GN 441.
All photos copyright Bill Christopher unless credited otherwise
Home - Izaak Walton Inn website - IWI GN 441 page - IWI "J.J." page - Online Reservations
Mountain Retreat - Living Room - Master Suite - Kitchen - Control Cab - Luxury Caboose "J.J."
Izaak Walton Inn - Glacier National Park - Glacier Area Activities - Going-to-the-Sun Road
EMD F45 History - GN 441 History - F45 Technical Data - Big Sky Blue - GN 400 "Hustle Muscle"
Rescue and Renovation - Paint Shop - Builder's Photos
Westbound to Montana - The Big Lift - Bringing Montana Indoors - J.J. Renovation
Guest Book - Runby Page - Site Map - Links - Contact Us